BOXES/CRATES
The first lithium-ion battery boxes allowing mixed contents (batteries and PEDs of different sizes) to have UN certification for air/sea/land global intermodal use.

CASES
Air travel cases for laptops and other PEDs, for safe checking or carry-on. Available in 2019.
PADS/BLANKETS
Sold in standard sheets; can be trimmed down to any size for a multitude of fire protection applications.
ULDs
Air cargo containers (ULD's) for PEDs, lithium-ion, and primary lithium metal batteries. In development.
REGULATIONS FOR THE FPS TECHNOLOGY
Fireproof Solutions principals and associates are members of approving organizations including the Society of Automotive & Aerospace Engineers (SAE), SAE's G-27 committee that is writing the new air transport regulations for lithium-containing batteries for the UN's International Civil Aviation Organization (ICAO), the new UL STP 5800 committee tasked with writing the new standard for lithium battery containment products, and the national Fire Protection Association (NFPA). Fireproof Solutions has also engaged consultants with long term connections to US military. FPS Thermal Management Kit was on display at the 2018 Association of the US Army (AUSA) exhibition, the largest annual military equipment shows in the US. FPS co-founders are also members of the AUSA, as well as the International Association of Bomb Technicians & Investigators (IABTI).
MARKET OPPORTUNITIES FOR THE FPS TECHNOLOGY
The use of lithium ion batteries is growing rapidly. According to an "Interim Final Ruling" issued February 25, 2019 by the US DOT Pipeline & Hazardous Materials Safety Administration (PHMSA), 7 billion lithium-ion batteries  –nearly 60 million per month – were produced in 2017 and projected growth is accelerating with billions of dollars being in investment by many of the largest companies in the world to go "clean" electric driven by numerous initiatives; government and private. As pervasive as lithium ion batteries are becoming, batteries containing lithium are considered a Hazmat risk resulting in restrictions associate with handling, shipping and storing.
For example: The new PHMSA "Interim Final Ruling" bans the shipment of lithium-ion batteries as cargo aboard passenger aircraft.  The ban was imposed because regulators have not found reasonably priced commercially available packaging that can contain or prevent lithium battery fires and explosions.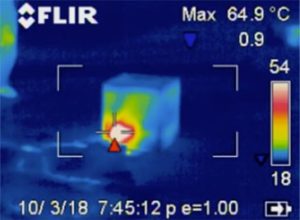 The introduction of the FPS Thermal Management Kit provides the solution for all the anticipated technical requirements proposed by regulatory bodies (domestic and international) for the safe shipment and storage of lithium ion batteries for any mode of transportation.
Ground and sea transportation can use the FPS Thermal Management Kit now but for air cargo transportation (or passenger luggage in the hold of aircraft) approvals are pending.